Beijing is definitely one of the most visited cities in the world. Every year, millions of visitors flock to Beijing to see the capital of China, a great blend of old and new.
Beijing is a city for all seasons. You can always find something for you no matter what time you are in Beijing and and whatever your interests are. There are actually hundreds of tourist scenic spots and historical sites in Beijing. Some are walkable. Some are a little far from the city center.
It takes time to enjoy everything that Beijing City has to offer. If you only have a few days to spare, you can highlight your Beijing trip by visiting the top 10 attractions or doing the top 10 things in Beijing. In that way, you can say that you have experienced Beijing City, even if your stay there lasts only for a few days or just the weekend.
What you should do or see in Beijing largely depends on your time, budget, personal interest and tolerance of the crowds. We offer two choices of Beijing Top 10 ( Red Top 10 & Blue Top 10 ), totalling 20 attractions based on the past 10-year internet tourism experience, only for your reference.
Beijing Top 10 and Travel Map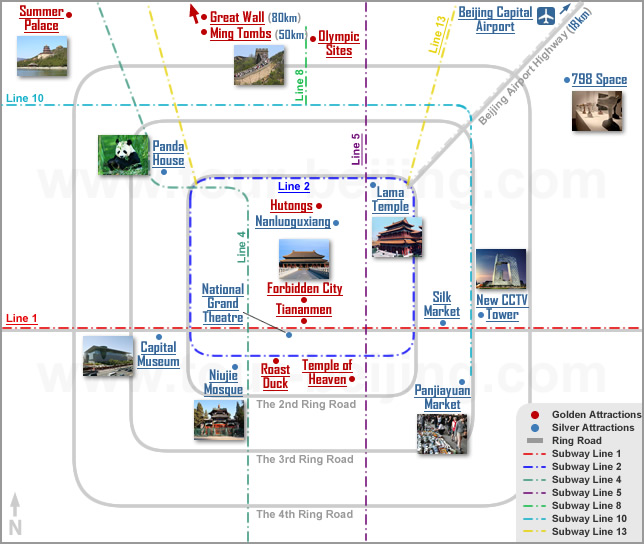 1. Forbidden City (Forbidden City Travel Tips ¨C The Palace Museum Travel Tips)
To many, many people, Beijing is an ancient capital city in the east. Forbidden City is the right place for you to start your Beijing tour by unveiling its mysterious face. Consisting of over 9,000 rooms and spread over 250 acres, this large palace complex was built between 1406 and 1420, but was burnt down, rebuilt, sacked and renovated countless times, so most of the architecture you can see today dates from the 18th century and on wards during the Qing Dynasty. Wear comfortable shoes as you have to walk a lot! I highly recommend going with a guide. It really is helpful to have a guide explain the stories behind the site and tell you about the important historical parts in the forbidden city. Or if you are non-group tourists, I suggest you rent multi lingual guide recorder either at Meridian Gate ( southern gate of Forbidden city ) or the Gate of Divine Prowess (Northern gate of Forbidden City) and return it when you finish your tour of Forbidden City. After you visit the Imperial Palace and go out of the Gate of Divine Prowess, you can enter into Jingshan Park, climb a bit and overlook the panorama of the Imperial Palace. In the evening, especially in summer, Forbidden City is brilliant. Colored lights from all directions lighten Meridian Gate, the Gate of Divine Prowess, turret, palace wall and other main palaces.
How to get there:
URL: www.dpm.org.cn
Add: No.4 Jingshan Front Street, Dongcheng District 65132255
Opening Hour: 8:30-17:00
Time of finshing selling ticket: 15:00 pm
Travel Time: two hours
Entrance Fee: RMB 60
Take No. 1, 2, 4, 5, 10, 20, 52, 57, 22, 54, 120, 802, special No.1 bus and get off at Zhongshan Phongshan Park stop or Tian Am Men stop.
Take subway
2. Tiananmen Square (Tips for Visiting Tiananmen Square)
What is the symbol of Beijing? There are various answers. But Tiananmen Square is definitely on the top list. Located in the heart of Beijing City, it is the site for massive parades and rallies, which is the largest square of this kind in the world. This was the site when in 1949, from a rostrum on Tiananmen (the Gate of Heavenly Peace), Chairman Mao proclaimed the establishment of the People's Republic of China. Tiananmen Square is surrounded by Tiananmen ( Gate of Heaven Peace ) on its north ; the Great Hall of the People on its west, the meeting place of national people's congress of the People's Republic of China; on the east of Tiananmen Square is the National Museum of China, and visiting the exhibition is like reading concise China General History; there are Monument to the People's Heroes and Chairman Mao's Mausoleum on the south.
At sunrise and sunset the raising and lowering ceremony of the Chinese National Flag is well worth the watching. The precision of the young troops is very well performed. Go there about 30 minutes early to have a good seat. Spend the time to see the people (soldiers, tourists and locals) makes the square a true highlight for the first time visitors.
How to get there:
Tiananmen Square: Free
Tiananmen (Gate of Heavenly Peace): RMB 15
The Great Hall of the People: RMB 15
Chairman Mao's Mausoleum: Free
The National Museum of China: RMB 15
Open Time (Tiananmen Square): Whole Day
Travel time: 2-4 hours
Take No.1, 2, 4, 5, 10, 20, 52, 57, 22, 54, 120, 802, special No.1 bus and get off at Zhongshan Park stop or Tian An Men stop.
Take subway.
3. Temple of Heaven (Tips for Visiting the Temple of Heaven)
I recommend Temple of Heaven as a real highlight of Beijing. It is located in the southern part of Beijing, and has been one of the most holy places for the whole country for more than five centuries. It used as a complex of sacrificial buildings for the Ming and Qing emperors, and is the largest one in Beijing among several royal altars to Heaven, Earth, the Sun, the Moon and other deities or symbolic forces of Nature. If you go to the Temple of Heaven in the early morning, you can see groups of people practicing all types of kung fu and taiji. Many people contentedly entertain each other with music,songs or quietly playing cards. You can also practice with them if you are so inclined. This is another good activity for the jetlagged. What makes the temple unique is the century-old trees – line upon line of Chinese cypress, Chinese juniper and scholar trees. Some of the cypresses are more than 600 years old. Dr Henry Kissinger, when he visited the temple, stated that while the USA could recreate the Temple of Heaven if it desired, it could not create the trees!
How to get there:
Add: on the east of Tianqiao, Chongwen District 67018866
Open Time: 6:00-21:00
Take 6, 20, 39 Buses
Travel Time: 1.5 hours
Entrance Fee: RMB 35

4. Summer Palace (Tips for visiting Summer Palace)
As the largest royal garden in China, Beijing's Summer Palace is actually a parklike imperial retreat spread out over 10 square miles. The Summer Palace in northwest suburban Beijing is the largest and most complete imperial garden existing in China. Once a summer retreat for emperors, this 290-acre park is still a retreat for the tourists, who can relax here or walk around ancient pavilions, mansions, temples, bridges and huge lake. Summer Palace mainly consists of Longevity Hill (Washoushan) and Kunming Lake. Much of it is covered by Kunming Lake. With masterly design and artistic architecture and integrationg the essence of Chinese garden arts, the Summer Palace has a title of "Imperial Garden Museum". It is an imperial garden most completely reseved with richest landscapes and concentrated buildings. The Summer Palace was added to the world cultural heritage list in 1998
How to get there:
URL: www.summerpalace-china.com
Add: Yiheyuan (Summer Palace) Road, Haidian District 62881144-209
Open Time: 6:30-20:30
Take busses No.726, 826, 718, 332, 331 or 737 and get of at Yiheyuan Dongmen
Entrance Fee: RMB 40 (low season) / RMB 50 (peak season)

5. Ming Tombs (How to Visit Ming Tombs in Beijing)
This is an amazing site for many reasons. First, it is outside Beijing, so you have a chance to escape the city and see a bit of the countryside. Second, it is relatively near the Great Wall, so you can visit both in one day. Third, the tomb itself is an eye opener. Some 50 kilometers northwest of the downtown Beijing, known as the ¡°13 Tombs¡±, this is the burial site of 13 out of 17 emperors of the Ming Dynasty. There are just two tombs which have been excavated and open to the public: Dingling and Changling. Changling is the first tomb to be built. It took 2 years for renovation, and was opened in 1958. Dingling has been excavated so thoroughly that one has to get into the burial chamber itself. However, it is a very steep climb down and people who have problems with their heart or kneels are not suggested to visit the underground tomb. For wheel-chair users or those who don't want to go deep inside a tomb, I recommend Changling Tomb.
How to get there:
Entrance Fees as below:
Changling Tomb: RMB 30 (Nov.01 to Mar.31) / RMB 45 (Apr.01 to Oct.31)
Dingling Tomb: RMB 40 (Nov.1 to Mar.31) / RMB 60 (Apr.1 to Oct.31)
Opening Time: Changling Tomb: 08:30 to 17:30 / Dingling Tomb: 08:30 to 18:00
Travel Time: Two hours
Tourist Bus Route: 1, 2, 3, 4, 5

6. Great Wall (Tips for Visiting the Great Wall of China around Beijing)
If you are in a rush, you can get the most out of your visit to Beijing by hiking one of the sections of the Great Wall. The Great Wall snaking across Beijing in its northern part is about 600 kilometers long. Along the total length of the Great Wall around Beijing, there are major eight sections including Badaling, Juyongguan, Huanghuacheng, Jiankou, Mutianyu, Gubeikou, Jinshanling, and Simatai. Most of the sections of Great Wall in Beijing are well-preserved and mainly the remains from the Ming Dynasty, an era of huge construction. For the climbing of the Great Wall, strong footwear is needed! In summer, please prepare for sunblock, sunglasses and water.
Badaling Great Wall:
Entrance Fees: RMB40 (Nov. 01 to Mar. 31); RMB 45 (Apr. 01 to Oct. 31)
Opening Hours: 06:40 to 18:30
Hiking Time: Two and a half hours
How to get there: Take Bus 919.
Or take tourist bus
No. 1 at Front Gate ( Qianmen );
No. 2 at Beijing Railway Station;
No. 3 at East Bridge;
No. 4 at Xizhi Gate or Beijing Zoo;
Juyongguan Great Wall:
Entrance Fee: RMB 45
Opening Hours: 07:30 to 17:30
Hiking Time : Two hours
How to get there:
Take tourist Bus Route as below:
Take No. 1 at Front Gate ( Qianmen )
Take No. 2 at Beijing Railway Station
Take No. 3 at East Bridge
Take No. 4 at Beijing Zoo or Xizhimen Gate top
Mutianyu Great Wall:
Entrance Fee: RMB35
Opening Hours: 07:30 to 17:30
Hiking Time: Two and a half hours
How to get there: Take Bus no 916
Simatai Great Wall:
Entrance Fee: RMB 35
Opening Hours: 08:00 to 17:00
Hiking Time: Two hours
How to get there:
Take the 970 bus out of Beijing to Miyun and hire a taxi from there.
Jinshanling Great Wall:
Entrance Fee: RMB 30
Opening Hours: 08:00 to 16:50
Hiking time: Two hours

7. Hutongs (How to visit Shichahai)
Do you have the experience of taking a pedicab? In the old Beijing hutong areas, you can find the ancient transportation tools now still preserved for tourists as the main traffic tool of visiting hutongs – Beijing unique old city lanes. The neighborhoods of narrow, twisting streets represent the ¡°real life¡± of Beijing, where passageways connect to courtyards of traditional compact homes. Pedicab tours of the hutongs cover the attractions that normally include the Drum Tower, courtyard neighborhoods and Prince Gong's mansion. There are lots of many small resturants, bars, and inns. From the top of the Bell Tower you can overlook the surrounding hutongs. The most interesting part of the hutong tour is walking through "Pipe Tobacco Alley" near the Bell Tower. On this tour you will enjoy the real people's Beijing. On the other end of Pipe Tobacco Alley has some of Beijing's fashionable cafes.
How to get there:
Two Sites for Hutong Exploring:
Shichahai Area: north of Beihai Park
Dazhalan Area: south of Tiananmen Square
Rickshaw: RMB 50-100

8. Olympic Sites (How to visit Bird¡¯s Nest and Water Cube)
Usain Bolt of Jamaica broke the world record by winning both the 100 and 200 gold medals at the Olympics; at the Water Cube (the National Aquatics Centre), Michael Phelps of America makes history with 8 Gold Medals in Beijing! A visit to the Beijing Olympic Green sitting at the north end of the Beijing city's axis is an eye-opener for your Beijing trip.
How to get there:
Entrance Fee: Water Cube RMB 40; Water Cube RMB 60
Subway Line 8 (Olympic Special Line): get off at Olympic Sports Center Station,
get out of the station from Exit B1 (northwest exit) or Exit B2 (northeast exit), and walk north.
Bus Route Take bus no. 82, 538 and get off at National Stadium East Station.

9. Beijing Roast Duck (How to Enjoy Beijing Nightlife)
Beijing duck is the local flavor of Beijing. Climbing the Great Wall, enjoying Beijing Opera and savoring Beijing Duck are the three "musts" for those visiting Beijing for the first time, which you cannot miss. The traditional method of preparing Beijing Duck has a history of over a hundred years and boasts a great reputation to this day. If you ask which is the best Beijing duck house ( restaurant ) in Beijing, different people will offer you different answers. Actually it is quite a personal taste of which one is the best.
How to get there:
Qianmen Quanjude Roast Duck Restaurant
Add: 32 Qianmen Dajie, Chongwen District
Open hours: 11am-1:30pm, 4:45pm-8pm
By bus: take lines 110, 120, 20, exit at Dazhalan
Tel: 6710 1379
Hepingmen Quanjude Roast Duck Restaurant
Add: 14 Qian Men xi dajie, Xuanwu District
Open hours: 11am-2pm, 4:30pm-10:30pm
By bus: take lines 14, 7, 15, subway line 2, exit at Hepingmen
Tel: 6301 8833
Wangfujing Quanjude Roast Duck Restaurant
Add: 9 shifuyuan Hutong, Wangfujing dajie, Dongcheng District
Open hours: 11am-1:30pm, 4:30pm-8:30pm
By bus: take lines 1, 4, 37, 52, exit at wangfujing
Tel: 6525 3310

10. Beijing Opera (How to Visit National Grand Theatre in Beijing)
Beijing Opera is a number of stylized action, including singing, dancing, dialogue and acrobatic fighting to tell a story or present different characters and their feelings of happiness, anger, sorrow, surprise, fear and sadness. In Peking opera there are four main types of roles: sheng (male) dan (young female), jing( painted face,male), and chou (clown, male or female). The characters may be loyal or treacherous, beautiful or ugly, good or bad, their images being vividly presented.
How to get there:
Huguang Huiguan Ancient Opera Building
Add: 3 Hufang Road, Xuanwu District ,Beijing
Tel: 63529134
Time: 9:00-19: 00 closed on Monday
Bus: Take buses NO.5,6,23,50,53,102,105 and get off at Hufangqiao stop
Ticket: 150 yuan
Liyuan Theatre
Add: 1/F Qianmen Hotel, Yongan Road, Hufangqiao, Xuanwu District, Beijing
Tel: 63540841
Bus: Take bus NO.19,40,59,61,122,819 and get off at Hufangqiao stop
Ticket: 20-150yuan
Chang'an Grand Theatre
Add:In the Guanghua Chang an piazza ,East Chang an Avenue
Tel:65101309
Time:afternoon and evening show
Ticket: 20-180yuan